Friday morning, we were up at 6. We went down to breakfast and after getting something to eat, we packed things up and checked out shortly be 8. Our first appointment was with GI at 9. Well, of course we got lost on the way. We wound up finally getting there around 8:30. We parked in the hospital garage because the Heart Clinic is actually in the hospital. We hiked across the street and made our appointment with plenty of time. We were called into the room, they did her vitals but couldn't get a blood pressure. What a surprise! Her weight was 11lbs 4oz! She was almost 22in long! Wow! What happened to my little girl?
The GI nurse practioner was nice. She listened to our history and understood when I told her that the reason we were here was because we had the appointment across the street and the pediatrician didn't like the fact that we didn't meet with the local GI clinic until September. She told me we could start actual food at 4-6 months adjusted. Also said that we should start milk products around a year adjusted. Said we could do dairy products but also bread and crackers before whole milk. She said the bread and crackers actually had dairy in it that was more broken down than something like yogurt or cheese. So that makes me feel better.
So afterwards we headed across the street out the back to get some mocha at Nordstrom. We were there so early that we heard their morning team meeting! So after we had our drinks, we headed over to the hospital. That was a whole totally new experience in it's own right!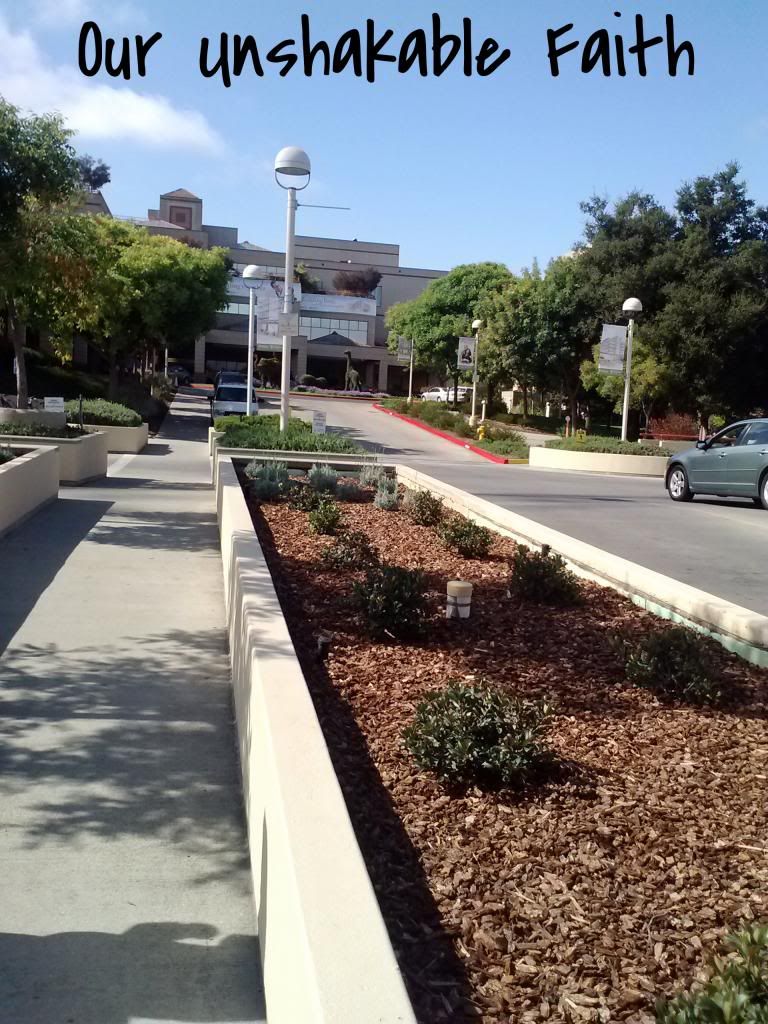 For one, we had to check in and get photo ID sticker badges! WHOA! Okay, so it was kind of nice that both kids got my picture stuck to them. Kind of like the whole "if found return to" idea! So then we had to go into admissions because Princess had an echo scheduled. Okay, well then we were there way early because Princess's echo wasn't scheduled until 11:30. Mom had thought about going and meeting up with Owen, but the school was on the 3rd floor and it was just going to be too much hassle to go and track them down. Beside the fact, I didn't want to disturb him in kindergarten. Kindergarteners have a short enough attention span and ones who are going to school in a hospital have got to have bigger things to worry about than just school work.
Fortunately, this is a children's hospital. So they try to make things as kid friendly as possible. So it turned out that there was a train a short distance from the Heart Clinic. Little Man actually liked the train. I have no idea why. There were buttons on side that made train sounds and made the little lighthouse light up.
So around 10:50 we head into the Heart Clinic. I knew there might be paperwork, but I wasn't sure. We had filled out a bunch at GI, so I wasn't sure what we were going to have fill out. There wasn't anything outside of a consent to treat there. They had kiddie masks there at the desk, so I snagged a few. I know at some point this RSV season Little Man will get sick. So in order to hopefully help keep us healthy, he'll have a mask. Try finding child surgical masks. Go ahead. Go down to your local pharmacy and see. You probably won't find any. Well, around 11 it was time for Princess to be fed. So I set about feeding her. I get an ounce and a half in her and they call us for vitals. She weighs 11lbs 3oz now! They get her blood pressure and it's 115/82! Oh the humanity! Okay, so we get ushered back out into the waiting room and I finish feeding Princess.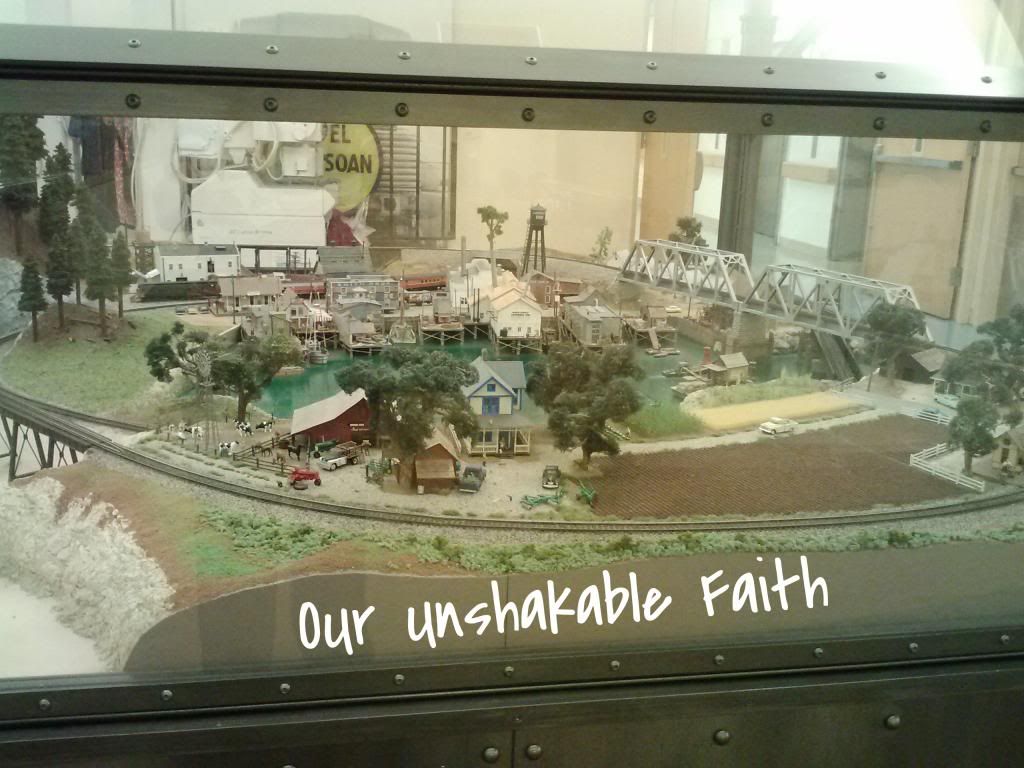 Then shortly after 11:30 we get called in for her echo. So they wrap Princess all up and she HATES it. Thankfully they have baby candy for her, so I dip her binkie. Now here's the thing, they WANT her to fall asleep! So here Mom and I are on one side of the bed and the tech is on the other side. I'm on my knees most of the time and the other part of the time I'm in a chair. Being we hadn't been here before, we had to do a full echo. I forgot how long the first echo was! At one point, they had to do the carotid artery in the neck and I wound up sitting there with my arm under her neck, propping her head back. Oh it was agonizing! Then, once the echo was done, we had an EKG. Well, it took longer to put all the stickers on her chest than it did to do the EKG! Then we were ushered back into a room.
We must have sat in that room for 45 minutes just waiting! Mom was starting to get annoyed. Remember, I had been called saying that Dr. R wasn't available. Finally, after about 30 minutes or so, the nurse came in and said that the doc had just gotten out with his other patient and was reviewing Princess's chart. Okay, so maybe soon. I told Mom that the doc might have to read everything from Dr. K and she said we could be there until next week! (Yeah, Dr. K is a little OCD.) Anyway, so finally, the door opens and in walks the doc. It's Dr. R! I told him I was surprised to see him because they had called saying he wasn't going to be in. He then said that he would have to check with the front desk people because they probably called the wrong patients! So he examined Princess and she was just a little flirt! He would touch her tummy and she would giggle and then pout and then giggle again! She even put her hand on top of his! It was so cute!
So I gave Dr. R the run down and he essentially said that we were in good hands locally. She would probably always have an athlete's heart. But that he did want to see the blood pressure better controlled. He would let Dr. K know that and if we weren't better controlled by a year adjusted, he would see her again, but otherwise, she was in good hands. Oh what a relief! I'm SO glad and so thankful! Not many kids go into LPCH and are told "You're fine. We don't need to see you again." This was the absolute best news possible! Praise God!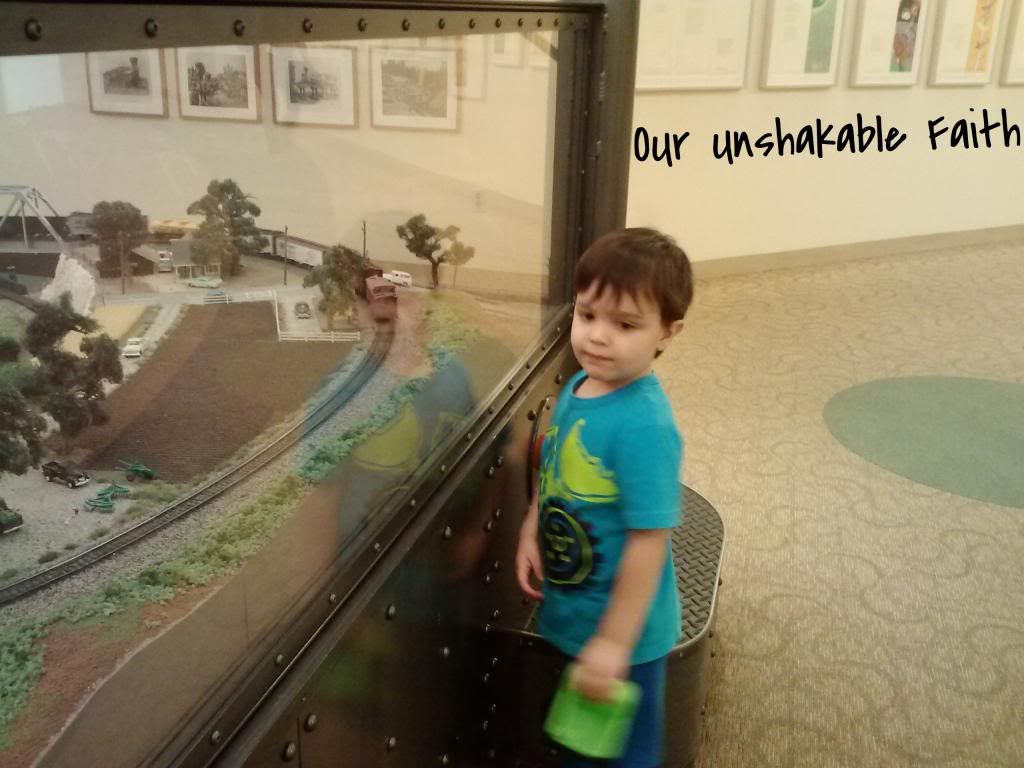 So after we got out, we found Little Man out at the train with Pops. We then went out to the car and didn't have to pay for parking because when we checked in they gave us a pass! Well, by the time we left the hospital and got on the road it was about 2:30. Oh Heavens! That was a nightmare! We wound up in traffic. Okay, so seeing Dr. R was definitely worth the wait in the room. He was the one we were sent there to see and is the LEADING pediatric cardiologist specializing in cardiomyopathy, but did he have to delay us so much to put us into traffic? Oh, it was agony! We all had skipped lunch and Little Man was crazy hungry! No matter how many Cheez-its he ate, it didn't help. Finally after 2 hours, we were at a stopping point, mainly because I HAD to go to the bathroom! Then me being a mom hit. Let's see, went to the bathroom at Panda Express. We decided to eat there, so I got mine and Little Man's food. (Mom and I were going to share.) Then I had to go out to the car to get Princess's medication. Gave her the medication and then had to shake her bottle. Thankfully Mom fed her, but then Little Man had to go potty. By the time I sat down to eat, my food was cold. Oh well.
So then we got back on the road and it was about another 4 hours before we got my mom's house. We had MORE traffic and it was an hour further north from our house to my mom's house. We stopped at Starbucks and hour from Mom's house and Little Man got an apple juice while the rest of us got decaf mocha's. Oh we so needed them! We got to Mom's house around 8. Pops took their sitter home and I got Little Man into bed and Princess in her jammies. It was a very long day and we all just hung out at the house on Saturday. It was a much needed rest after the craziness that was Stanford.
Thankfully everything was good. I can't believe our good fortune. Every so often I am just blown away at how God has shown Himself in our little family. Princess is truly a miracle. And there are so many things that could have happened to her that haven't. I look at her sometimes and am just blown away. I sometimes wish she
looked
or
acted
sick because then it would be easier to wrap my mind around it. Instead, all of her issues are internal. So it's sometimes difficult to look at her and remember that she has all these 'ologists following her. Then I remember than any one of these issues that she's had (the hypertension, the hyperkalemia, the cardiomyopathy), if left unchecked could have taken her from this world and it would have been ruled SIDS. How fortunate we are that our pediatrician decided to send her to Dr. K. Had she not, Princess may not be here. How blessed we are to have everyone in her life looking out for her.